Day 2 :
Womens Health & Palliative Care Advancements in Physiotherapeutic treatments Manual Physiotherapy Strategies Disability and Management
Location: 2
Session Introduction
Deborah Hilton Statistics Online ,Australia

Biography:
I have the qualifications of a B Phty, and a MPH. My dissertation was an analysis of the Australian Diabetes Screening Study, and this was published in the Medical Journal of Australia. My research gate profile is https://www.researchgate.net/profile/Deborah_Hilton, listing 14 research items [publications], which have been read over 1500 times and there has been approximately 250 citations. My website is at; Deborah Hilton Statistics Online http://sites.google.com/site/deborahhilton/. My CV lists 11 peer reviewed publications, 1 manuscript acknowledgement, I grant successfully applied for, 22 poster presentations, 1 book acknowledgement, 7 paper conference presentations, and other adhoc work including 18 short articles written.
Abstract:
Abstract
Statement of the Problem: Physiotherapists utilize evidence-based physiotherapy/medicine principles routinely and hence need to interpret literature and research evidence being outcomes reported in systematic reviews and randomized controlled trials quickly and efficiently. Subsequent decision-making involves using this evidence in conjunction with their professional expertise and experience as it relates to individual patients. Various statistics and summary measures are reported in the literature and outcomes may be continuous or dichotomous in nature and hence reported statistics vary. Commonly calculated statistics include the relative risk, relative risk reduction and absolute risk reduction. The number needed to treat [NNT] statistic is another option that may aide interpretation and this describes the number who need to be treated with the intervention for one to improve whom would not have improved otherwise with control treatment. While reported to varying degrees in the scientific literature more recently it can be efficiently and reliably calculated using one of many downloadable spreadsheets. Methodology: The Australian Physiotherapy Evidence Database (PEDro) was searched in order to locate a selection of physiotherapy research articles that reported various dichotomous outcomes that could be converted to the NNT statistic for the purpose of this analysis.
Findings: The NNT statistic for nine studies with a PEDro score ³6 was calculated using the Internet-based downloadable spreadsheet on the PEDro website. For six studies, the NNT point estimates ranged from 2 to 4 (95% confidence interval 1–10). One study had a NNT of 8, while two other studies produced number needed to harm values. Conclusion & Significance: The NNT can be calculated quickly and efficiently using Internet-based calculators and/or other decision-making tools, and may be an alternative that provides readily interpretable information to assist in conveying the likely benefits (and/or risks) of treatment to patients.
Hilton DJ. 2016. The global children's challenge program; pedometer step count in an Australian school. International Journal of Social, Behavioral, Educational, Economic, Business and Industrial Engineering. 10: 588-591.
Hilton DJ. 2014 Computational Methods in Official Statistics with an Example on Calculating and Predicting Diabetes Mellitus [DM] Prevalence in Different Age Groups within Australia in Future Years, in Light of the Aging Population. International Journal of Mathematical, Computational, Physical and Quantum Engineering 8: 1208-1212.
Kabra SK, Lodha R, Hilton DJ. 2008 Antibiotics for preventing complications in children with measles. Cochrane Database of Systematic Reviews Issue 3. Art. No.: CD001477. DOI: 10.1002/14651858.CD001477.pub3.
Hilton D, Reid C, Paratz J. 2006 An under-used yet easily understood statistic: the number needed to treat. Physiotherapy 92: 239-245.
Rosenfeldt F, Hilton D, Pepe S, Krum H. 2003 Systematic review of effect of coenzyme Q10 in physical exercise, hypertension and heart failure. Biofactors 18: 91-100.
Department of Physical Therapy, Youngsan University,South Korea
Biography:
So-Hyun Park
Department of Physical Therapy, Youngsan University,South Korea
Abstract:
BACKGROUND: Many practitioners recommend step-up and step-down exercises. However, decreased stability of the hip joint and imbalanced muscle activities can alter the biomechanics during these movements.
OBJECTIVE: This study investigated muscle imbalance between medial and lateral muscle components and between proximal and distal muscle components by expressing the proportions of muscle activation in the step-up and step-down positions.
METHODS: Nineteen subjects participated. Activities of the vastus medialis oblique, vastus lateralis, semitendinosus, biceps femoris, adductor, gluteus medius, and gluteus maximus were assessed.
RESULTS: The semitendinosus–biceps femoris ratio was higher in the step-down position than in the step-up position. The adductor–gluteus medius, adductor–vastus lateralis, an adductor–biceps ratios were higher in the step-up position than in the step-down position. The gluteus maximus–biceps ratio was greater in the step-down position than in the step-up position.
CONCLUSIONS: Muscle activation in the medial hamstring is greater in the step-down position; in the adductor, muscle activation is greater in the step-up position. The step-down position is more appropriate for those with proximal weakness, which can promote muscle activation in the gluteus maximus while maintaining biceps femoris activation.
Key words: muscle balance, hip muscle activities, step-up, step-down

Biography:
Angel Lee is an Adjunct Research Fellow with the Department of Physiotherapy, Monash University and Specialist Advisor in Physiotherapy with ACH Group. Her research interests are prevention of accidental falls by older adults, evidence-based practice by health professionals, rehabilitation and gerontolgy. She has published nine peer reviewed journal articles between 2013 to 2017. She received research funding from Lions John Cockayne Memorial Fund for improving health care outcomes for geriatric patients from 2014-2015.
Abstract:
Background: Clinical depression affects approximately 15% of community-dwelling older adults, of which half of these cases present in later life. Falls and depressive symptoms are thought to coexist, while physical activity may protect an older adult from developing depressive symptoms. This study investigates the temporal relationships between depressive symptoms, falls and participation in physical activities amongst older adults recently discharged following extended hospitalisation. Methods: A prospective cohort study in which 311 older adults surveyed prior to hospital discharge were assessed monthly post-discharge for six months. N=218 completed the six-month follow-up. Participants were recruited from hospitals in Melbourne, Australia. The survey instrument used was designed based on Fiske's behavioural model depicting onset and maintenance of depression. The baseline survey collected data on self-reported falls, physical activity levels and depressive symptoms. The monthly follow-up surveys repeated measurement of these outcomes. Results: At any assessment point, falls were positively associated with depressive symptoms; depressive symptoms were negatively associated with physical activity levels; and, physical activity levels were negatively associated with falls. When compared with data in the subsequent assessment point, depressive symptoms were positively associated with falls reported over the next month [unadjusted OR: 1.20 (1.12,1.28)], and physical activity levels were negatively associated with falls reported over the next month [unadjusted OR: 0.97 (0.96, 0.99) household and recreational], both indicating a temporal relationship. Conclusion: Falls, physical activity and depressive symptoms were inter-associated, and depressive symptoms and low physical activity levels preceded falls. Clear strategies for management of these interconnected problems remain elusive.
Health Sciences Center - Kuwait University ,Kuwait
Biography:
.
Abstract:
Objectives: The objectives of this descriptive study were to investigate the attitudes and perceptions of physical therapists regarding research, the intention to engage in research and the barriers to participating in research amongst physical therapists in the State of Kuwait.
Subjects & Methods: A previously validated questionnaire was distributed to 200 non-randomly selected physical therapists. The questionnaire gathered demographic data as well as information regarding research-related activities. Descriptive statistics, frequency and χ(2) analyses were used in this study.
Results: Of the 200 questionnaires distributed to physical therapists, 122 (61%) were completed and returned. The physical therapists had a positive attitude towards reading these findings in order to update their knowledge. However, only 16 (17%) of the physical therapists participated in clinical research. The common reasons given were: minimal role and reduced ability, intention and level of engagement in initiating research, probably due to work overload, time constraints and limited access to resources.
Conclusions: Physical therapists in Kuwait had a positive attitude towards the application of research findings to their practice. However, they were not confident in initiating research due to work overload and lack of time as well as limited access to library resources. Therefore, we recommend stimulation to engage in research activities to be a requirement and to develop a system to improve the skills and knowledge of doing research.

Biography:
Venasio Ramabuke is pursuing his Master of Education from the University of the South Pacific. He is currently a Lecturer for the Physiotherapy program at the College of Medicine, Nursing, and Health Sciences-Fiji National University. He completed his basic Physiotherapy at the Fiji School of Medicine in 2001, before completing his Bachelor's degree in Sport and Exercise Science from the University of the Sunshine Coast, Queensland. He has been working as a Clinical Physiotherapist prior to taking up an academic role.
Abstract:
Clinical reasoning is a key competency in any physiotherapy clinical education academic program. A clear and structured thought process informing practice is critical in the clinician's ability to make good decisions. 41 undergraduate physiotherapy students, in their 3rd and 4th year from the Fiji National University were assessed on their ability to make decisions on ill-defined cues via clinical vignettes. The Script Concordance Test (SCT) with the pass mark standardized at one standard deviation from the class mean score was the assessment tool used to analyze diagnostic clinical reasoning in undergraduate physiotherapy students. Third year students demonstrated a mean score of 59.32%±8.03 while the fourth years scored a slightly higher mean score of 64.97%±10.17 in concordance to the reference norms set by the expert clinicians. There were no significant differences between the 3th to 4th year (p value=0.29) and the 3rd year to the expert (p value=0.40) scores. There were also no significant differences in the 4th year to the expert (p value=0.55) scores. Increasing exposure to clinical experience may have had some effect on increasing levels of clinical reasoning but was not significant. An exposure to an environment that allows for harnessing of thinking skills may be more important in leveraging clinical making abilities. Interventions that help students make good decisions is crucial in training them to be good clinicians. The SCT is a valid assessment tool for psychometric analysis of clinical reasoning amongst physiotherapy students.
Ziauddin Medical University Pakistan

Biography:
Anum Haider Ladak has completed her MSc from Liaquat National Hospital in Neuro Musculoskeletal Rehabilitation. She is working as a Physiotherapist in Aga Khan Hospital, Pakistan.
Abstract:
Background: Hypertension is the leading cardio vascular problem worldwide. Hypertension persist in the patient for a long time without any symptom which results in weakening of coronary vessels. Hypertension is a major risk factor for stroke, neuropathy and coronary artery disease. Increased blood pressure and lack of exercise are strongly associated with each other.
Aim & Objective: The purpose of this study was to explore the effectiveness of lower limb (cycling) and upper limb exercises (arm stretch trainer) in reducing blood pressure in hypertensive patients.
Method: Case control study was performed on 80 participants with the age between 40-60 years. Participants taken for the study were divided into two groups. Group A with 40 participants were receiving upper limb exercises and the Group B with 40 participants were receiving lower limb exercises. Total 10 sessions of both type of exercises were administered.
Result: A statistically significant difference was found in systolic and diastolic pressure before and after the exercises. Systolic blood pressure was reduced to 133.95±4.187 after lower limb exercise and 171.800±5.616 after upper limb exercise. Whereas, diastolic blood pressure was reduced to 84.500±2.83 by using lower limb cycling exercise and 92.27±3.40 by using upper limb exercise. T test result shows p value less than 0.005 of both systolic and diastolic blood pressure.
Conclusion: Both the exercises have impact in reducing blood pressure but patients who want quick recovery should go for lower limb exercises.
Adhiparasakthi College of Physiotherapy Tamil Nadu, India

Biography:
S. Makesh Babu has completed Bachelor of Physiotherapy from The Tamil Nadu Dr.M.G.R.Medical University, Chennai and completed Mater of Physiotherapy with Specialization - Orthopaedics & Traumatology from Sri Ramachandra University, Chennai, India. Currently he is pursuing PhD. He has been in clinical and teaching Physiotherapy for the past 15 years. Presently he is working as Professor in Adhiparasakthi College of Physiotherapy, Tamil Nadu, India. He has received "Award of Professional Excellence" in 5th National Physiotherapy Conference (2017) Organized by School of Physiotherapy, VELS UNIVERSITY, Chennai, India and had received Dr. M.G. Mokashi "Best Physiotherapist Best Teacher Award" in the National Level Physiotherapy Conference - PHYSIO-CON 2016, Srinagar, India. He is a peer reviewer for the African Journal of Health Sciences since 2008 and has been co-author of research papers for National and International academics. His areas of research interests are Physical Activity, Women's Health, Orthopaedic and Geriatric Rehabilitation.
Email: [email protected]
Abstract:
Abstract
Statement of the Problem/Background: Physical activity is defined as any bodily movement produced by skeletal muscles that require energy expenditure. World Health Organization (2002) reports that about 60% of the global population do not do the daily minimum recommendation of 30 min of moderate intensity physical activity. In all developing countries, the levels of inactivity have been becoming virtually high and a great problem even in rapidly growing large cities of the world. According to the world Health Survey reports 9.4% Indian men are physically inactive which is the highest of physical inactivity in the Southeast Asian Region (countries include – India, Srilanka, Nepal, Bangladesh, Myanmar) and Physical inactivity level of Indian women were reported as 15.6% which is the second place next to Bangladesh (27.0%). The studies performed by the various researchers from various countries among college students have been found to have moderate to poor physical activity levels/habits.
Objectives of the study: The primary objective of the study was to find out the level of Physical Activity among Physiotherapy students in a South Indian college setting. Secondary objective of the study was to find out the association between physical activity with selected variables.
Methodology: The study design was a cross sectional survey. A total of 60 participants comprising of 30 male and 30 female students were selected for the study by means of convenience sampling. International Physical Activity Questionnaire (IPAQ) was used to identify the physical activity level of the students. IPAQ assesses physical activity undertaken across a comprehensive set of domains including: (a) leisure time physical activity (b) domestic and gardening (yard) activities (c) work-related physical activity (d) transport-related physical activity. Physical Activity levels were correlated with the selected variables. Conclusion: The data concluded that physical activity levels of male students are high compared to female students.
References
J. Baran et al. (2016) Physical activity of physiotherapy students of the University of Rzeszów and its impact on the subjects' body composition. The 4th European Congress of the ER-WCPT / Physiotherapy 102S (2016) eS67–eS282.
Humeda S. Ahmed, Mohammed E. M. Khalid, Osama M. Osman, Mansour A. Ballal,1 and Fahaid H. Al-Hashem (2016) The association between physical activity and overweight and obesity in a population of children at high and low altitudes in Southwestern Saudi Arabia. J Family Community Med. 2016 May-Aug; 23(2): 82–87.
Roshini Rajappan, Karthikeyan Selvaganapathy, Lola Liew (2015) Physical Activity Level Among University Students: A Cross Sectional Survey. International Journal of Physiotherapy and Research, Vol 3(6):1336-43. ISSN 2321-1822.
A. Mihailova, I. Kaminska, and A. Bernane (2014) Physical activity in physiotherapy and physical education high school students. SHS Web of Conferences 10, 00025.
Regina Guthold, MPH, Tomoko Ono, MPH, Kathleen L. Strong, PhD, Somnath Chatterji, MD, Alfredo Morabia, MD, PhD (2008) Worldwide Variability in Physical Inactivity A 51-Country Survey. Am J Prev Med 34(6):486-94.
Pakistan Society For Rehabilitation Of Disabled , Pakistan

Biography:
Muhammad Usama Khalid Student, Second year (Doctor of Physical Therapy) Participant Pakistan Society For Rehabilitation Of Disabled from Pakistan
Abstract:
Pakistan is a developing country with 29.5 per cent of the people living below poverty line. Habits of the people are largely diversified; there is no availability of footwear for 15 per cent of the people due to financial constraints and cultural habits. Medical practitioners in Pakistan hardly have digital records, but keep written records. I found it very difficult to interview 10 renowned practitioners in Lahore, but when I did I was satisfied that 20 patients had been treated by theses practitioners. The research concludes that one out of 13 patients visiting physiotherapist or orthopaedics complained about pain in the heel, stiffness and restricted range of motion (ROM), medically called plantar fasciitis. Plantar fasciitis is a most common complaint by people with chronic pain under their heels. This was most common in 50 percent of patients owing to shoes with hard soles, high heels for women, uneven roads, trauma, activities involving weights or in athletes. Plantar fascia is a thick connective tissue (aponeurosis) that supports the arch on the bottom of the foot. It runs from calcaneal tuberosity forward to the head of metatarsal. Due to overuse, plantar fascia can get inflamed. The most common way is to suggest heel pad cushion, slight stretching ultrasonic, cold pack and rest. If not cured, a patient is suggested to use anti-inflammatory drugs. The disease in Lahore is most common among labourers, athletes, diabetics and osteoporotic patients. The disease is most common in women with 1:10.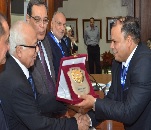 Biography:
Ibrahim M. Zoheiry has completed his PhD from faculty of physical therapy, Cairo University in 2009. Master in physical therapy for burn and plastic surgery, currently he is associate Professor, faculty of physical therapy, October 6 University, Chairman of Basic Science department for physical therapy. He published several papers in reputed journals in addition to various books.
Abstract:
Background: Hand repetitive occupational motions have been linked with raised incidence of Carpal Tunnel Syndrome (CTS) which is characterized by deterioration of median nerve function. A change in wrist & fingers position has been associated with disruption in median nerve function.
Purpose of study: The purpose of this study was to investigate the influence of wrist and fingers position on median nerve distal latency responses in healthy subjects.
Subjects: Sixty healthy participants aging between 30 to 50 years from both sexes were randomly assigned into 1 study group.
Methods: Measurements of median nerve motor distal latency using nerve conduction study from neutral wrist, 60º wrist extension and 60º wrist flexion positions, measurements of median nerve sensory distal latency from fingers extension and fingers flexion positions.
Results: Wrist extension was displayed as the most convenient position as it showed significant difference when compared with other wrist positions. Fingers extension position was displayed as the most convenient position as it showed significant difference when compared with fingers flexion position.
Conclusion: Wrist and fingers extension position was the most convenient position for assessment of median nerve. Both sensory and motor distal latencies were optimized in extension position when compared with other wrist & fingers position. Also preventing repeated and prolonged wrist and fingers flexion may reduce risk of carpal tunnel syndrome.