Day 1 :
Keynote Forum
Beirut Arab University, Lebanon
Time : 09:00-09:45

Biography:
Dr. El Khatib has completed his PhD at the age of 37 from Cairo University (Egypt) – Faculty of Physical Therapy – Basic Sciences Department. He is currently an Assistant Professor at the Physical Therapy Department – Faculty of Health Sciences – Beirut Arab University – Beirut – Lebanon (Teaching in a program accredited from World Confederation for Physical Therapy (WCPT). He was part of the team who introduced the DPT program in Lebanon. Dr. El Khatib is a member of the Order of Physiotherapists in Lebanon (OPTL) and particiapted in the WCPT congress in Cape Town 2017 in a poster presentation. Dr. El Khatib is interested in different research areas especially Health Promotion, Medical Education, and Pediatric Physical Therapy.
Abstract:
Juvenile Rheumatoid Arthritis (JRA) is one of the most common chronic rheumatologic diseases in children under 16 years of age, causing repeated falls due to decrease in joint development and impairment of balance control. Objective: To investigate the effect of additional backward walking training on postural control in children with polyarticular Juvenile Rheumatoid Arthritis (pJRA). Materials and methods: Thirty children with pJRA (18 girls and 12 boys) were assigned randomly into two equal groups (control and study). Both group received selected physical therapy program for three months. Study group additionally received backward walking training which was provided 20 min/d, 3d/w for 3 successive months. They were assessed and treated at the Faculty of Physical Therapy, Cairo University. Biodex balance system was used to measure overall, anteroposterior, and mediolateral stability indices and Berg's balance scale were used to assess balance performance before and after treatment. Results: There was significant improvement in all measured variables of the control and study groups after treatment. However, significant improvement was marked in the study group when comparing the post-treatment mean values of this group with the control group. Conclusions: Backward treadmill training can be used as an adjuvant therapeutic modality to improve balance in children with JRA.
Location: Radission Narita Hotel
Session Introduction
Kathmandu University School of Medical Sciences, Nepal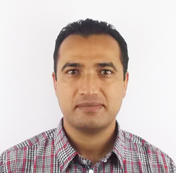 Biography:
Shambhu Prasad Adhikari has completed his PhD from Mahidol University, Thailand. He has been working as a lecturer in Kathmandu University School of Medical Sciences, Nepal. He is the coordinator for international affairs at physiotherapy division. He has also been currently working as a chair of the scientific committee, for the international conference of Nepal physiotherapy association that will be held in November 2018. He has published articles in international journals and has given presentation in international conferences. He has been advising six students on research and has been conducting couple of research as a primary investigator at present.
Abstract:
The natural disaster like earthquake is a sudden event that causes not only the loss of life but also results mental, emotional and physical disabilities. An earthquake of 7.8 magnitudes hit Nepal and injured more than 18,500 people in 2015. There was a critical need to develop rehabilitation protocols for various injuries and rehabilitate the victims at their own community, to prevent from life-long disabilities and reduce public health burden. Therefore, evidence-based rehabilitation protocols for various injuries were derived at first to address the victims' impairments and activity limitations. After a survey, the protocol was administered to thirteen victims of one of the most affected community sites, for 60 minutes/day, twelve days in two weeks at their own door. Local resources were used to make the protocols sustainable. An immediate effect of the protocols was evaluated within the group. The World Health Organization Disability Assessment Schedule, numerical pain rating scale, and time up and go test (TUG) were used to measure disability level, pain and mobility status respectively. The Wilcoxon signed rank test was used to analyze pre-post data. All participants completed the rehabilitation without adverse effects. The treatment demonstrated significant reduction in disability level (p < 0.001, effect size = 0.63) and pain level (p = 0.007). However, change with the TUG was not significant. The findings of this community based rehabilitation indicated benefits of the treatment and helped to improve the victim's quality of life. Follow-ups will be continued to explore sustainability and long-term effect of the intervention.
College of Physical Therapy, Cairo University, Egypt

Biography:
Mariam Ameer has obtained PhD in Biomechanics in 2013 from Cairo University, College of Physical Therapy, Biomechanics Department. After her graduation, she worked in different fields in Egypt and Saudi Arabia, which include teaching, private clinic and sports field. Her main field of interest is sports injuries and motion analysis. She is also highly enthusiastic to enhance her research activities and improve her communication skills by interacting with researchers, experts and professionals around the globe.
Abstract:
Background: Double and single leg jump (SL) landing activities are considered stressful tasks for handball players. Most of the previous researches focused on kinetic analysis of these activities rather than kinematic analysis. Purpose: The main aim of this study is to perform lower extremity kinematic analysis to find the kinematic differences between single and double-leg jump (DL) landings in the sagittal plane (SP). Methods: The lower extremity kinematics were measured in 15elite male handball players (while performing SL and DL landings), by using three-dimensional motion analysis system (VICON). Results: The results revealed statistically significant difference between the lower limb kinematics of SPSL and SPDL. During the SPDL, the hip and knee flexion angles increased more than those in SPSL, while there was more knee adduction with internal rotation stress in SPSL than in SPDL (P< .05). The hip and knee flexion angles in the SPDL showed moderate association with those during the SPSL (R2, 0.49 and 0.44 respectively). In addition, the hip abduction in the SPDL showed moderate association with those during the SPSL (R2, 0.37). But, hip internal rotation, knee adduction, and knee internal rotation in the SPDL showed weak association with those during the SPSL (R2 = 0.02-0.041; P ˃ .05). Conclusion: The double-leg jump landing maybe considered as a less stressful task for the lower limb joints than the single-leg jump landing activity. As a clinical benefit, the double-leg jump landing activity may be used to screen the ACL injury risk in certain planes of joint motion.
International Academy of Continuing Education, Brazil

Biography:
Ines Nakashima is a Brazilian Physical Therapist, Specialized in Exercise Physiology at USP - Universidade de São Paulo (São Paulo´s University), Specialized in Chiropractic recognized by COFFITO - Conselho Federal de Fisioterapia e Terapia Ocupacional (Federal Council of Phisioterapy and Occupational Terapy) and MCMT - Mastery Certification in Manual Therapy at Hands on Seminars, NY, USA. Since 2011, Inês has been an International Speaker, teaching all around the world to spread her experience on the HVLAT field. She is the Director of the International Academy of Continuing Education and also an instructor for BMS MOVE and Clinical Director of Clinica IN, located in São Paulo, Brasil.
Abstract:
A modern concept of the High Velocity Low Amplitude Techniques based on the knowledge of the influence of the proprioception on the body, considered nowadays as the 6th sense and its changes and effects of the subluxation on the human body.
Brief explanation about the integration of the HVLAT on the Brain by conciliating with the biomechanical viewpoint, bridging the gap between orthopedics and neurology, with demonstration on how to assess and choose the best technique to address the hemisphericity of the brain, which clinically is completely relevant to select the type of manipulation and as well as physical exercise, considering the brain funcion and treatment goals.
Department of Medical, Health & Family Welfare, Government of Rajasthan, India

Biography:
Mahender Jhorar has completed his Bachelor of Physiotherapy degree from Rajiv Gandhi University, Bangalore and completed Master of Physiotherapy with specialization Cardiopulmonary from H.N.B.Garhwal University, Dehradun, India. He has been in clinical and teaching Physiotherapy for the past 12years. He has around 10 publications in International Journal of Physiotherapy and has guided around 30 PG students in their research work. He has been awarded with Significant Contribution award, best academician, and young achievement at National &International conferences.
Presently he is working as a cardiopulmonary Physiotherapist Department of Medical, Health & Family Welfare, Government of Rajasthan, India. He is Peer Reviewer for the Indian journal of physical therapy &rehabilitation since 2011. His areas of research interests are physical activity, cardiorespiratory fitness, women's health, health awareness, community rehabilitation.
Abstract:
Background: The number of mobile phone users in the world is expected to pass the five billion mark by 2019.
Purpose: The aim of this study was to evaluate the changes in cardiorespiratory functions depending on the duration of smartphone usage.
Subjects and Methods: Participants were randomly allocated to 2 groups: group 1 (subjects who used smartphones for <4 hours/day, n=25) and group 2 (subjects who used smartphones for >4 hours/day, n=25). Forced vital capacity and forced expiratory volume in 1 second were measured using respiratory function instrumentation diagnostic spirometry. Queen's College Step Test simplest one to determine cardio respiratory fitness in terms of maximum oxygen uptake.
Results: There were significant differences in the peak expiratory flow and cardiorespiratory fitness depending on the duration of smartphone usage.
Conclusion: The result of this study showed that prolonged use of smartphones may disrupt physical activity and could negatively affect both respiratory function and cardiorespiratory fitness.

Semnan University of Medical Sciences, Iran

Biography:
I am a physiotherapist with a MSc degree. I am a graduate of Semnan University of Medical Sciences in 2018,. I was the head of physiotherapy department in Boualy hospital and education center in Sari, Mazandaran, Iran from 2013 to 2015. now I am head of my physiotherapy clinic in Neka, Mazandaran. My favourit field in researchs is biomechanic. My special areas of interest are Exercise and Manual Therapy in Orthopedic disorders, and Biomechanic science. I had an international presentation at 5th International Conference on Physiotherapy November 27-29, 2017 Dubai. And i had some internal conferences.
Abstract:
Introduction: There is evidence that changes in the function of deep trunk muscles remain in patients with low back pain after lumbar decompression surgery. The purpose of this study was to investigate the effectiveness of stability exercise (SE) on the pain, disability and transverse abdominal (TrA) muscle thickness during voluntary and functional tasks in patients with low back pain after lumbar decompression surgery.
Materials and methods: This randomized clinical trial study was conducted on 40 patients who underwent lumbar decompression surgery over the past two to three months. The intervention group underwent 8 weeks of treatment consisting of SE, and the control group received only general exercise (GE) in the same period. The TrA muscle thickness was measured using the HS-2100V ultrasonography apparatus (made in Japan) with a 7.5 MHz B-type linear probe. A Roland–Maurice questionnaire was used to assess the patients' disability due to low back pain (LBP), and the VAS questionnaire was used to measure the severity of the pain.
Results: The results showed that the percentage of changes in the TrA muscle thickness during the abdominal hollowing (AH) maneuver and standing, significantly increased in the SE group, and also the pain and disability decreased significantly (P<0.05). In addition, the results demonstrated that pain and disability decreased significantly in the GE group (P<0.05); however, the percentage changes in the muscle thickness in the abdominal hollowing maneuvers and standing were not significant (P>0.05). The independent T-test indicated that changes in the level of the TrA muscle function during standing (muscle functionality status) as well as the changes in the level of disability were significantly higher in the SE group than the GE group (P<0.05).
Conclusion: SE is more effective than GE in increasing the performance of deep abdominal muscle during functional tasks and contributes in reducing the level of disability. Therefore, this intervention can help to improve the functional activity of deep abdominal muscle, especially in standing tasks in people who have undergone lumbar decompression surgery.

Biography:
Tehran University of Medical Sciences Tehran Iran
Abstract:
Aim: The immediate effect of a novel designed variable pressure knee orthosis on the leg adduction moment in patients with medial compartment knee osteoarthritis was compared with the effect of ordinary constant pressure knee orthosis.
Methodology: Fifty patients (age: 60.9±7.5, 25 female & 15 male) with primary medial knee osteoarthritis were recruited through simple convenient sampling method. A variable pressure knee orthosis was designed including two air cuffs that were connected with a narrow plastic tube. One cuff is mounted in the heel area of the patient 's shoe and the other cuff was fixed on the lateral side of the knee orthosis at the level of knee joint line. The medial directed pressure at the knee joint was variable and related to the amount of vertical load of body weight that was applied to the heel cuff. The vertical distance of foot center of pressure to lateral border of the foot was measured before and after wearing the knee orthosis during single and double stance. A foot scan was used for the measurements. The changes of the distance between the center of pressure and lateral border off foot is correlated with the amount of the adduction mement on the knee joint.
Results: The vertical distance of foot center of pressure and lateral border of foot was statistically significant between single limb and doule limb support (p=0.001), before and after wearing variable pressure knee orthosis (p=0.001) and static pressure knee orthosis (p=0.03). the difference between both knee orthosis was also significant (p=0.002).
Conclusions: the variable pressure knee orthosis can reduce the adduction moment of the knee joint more than ordinary static pressure knee orthosis.
Manila Central University, Philippines

Biography:
Er D . Petil Jr.Associate Professor III in Physical Therapy, Lecturer in Manila Central University, St Dominic College of Asia, New Era University. Master Degree in Special Education and Doctor of Philosophy student at the University of The Philippines. Bob O. Jimenez, Program Chair of Physical Therapy St Dominic College of Asia. Darwin Panganiban, Assitant Professor , Physical Therapy St Dominic College of Asia. Lachica,LM., Catacutan, J., Logronio, AY. Physical Therapy students at St. Dominic College of Asia.
Abstract:
Virtual Reality (gaming console) and Progressive Resistive Exercises (PREs) have emerged as recent treatment approaches in stroke rehabilitation. In particular, the Game console is used to aid in portraying and calculating body positioning, visual perception, balance, and gross motor skills while PREs is a strengthening technique that basically used by the Physical Therapist in treating impairments particularly muscle weakness. PRE's can be administered via different forms; the study utilized PNF D1 Flexion, Extension patterns through resistive bands. The principle states to improve muscle performance and functionality that it should exceed the metabolic capacity of the muscle and challenged to perform at a level greater than to which it is accustomed. To improve the arm function of patients with Hemiplegic by using new dimensional approach. Quasi Experimental Group Pre and Post test Design is used in the study. Retrospectively, all the post-stroke patients who are at the age range of 40-70 years old were reviewed with selection criteria and been oriented with informed consent. Fifteen participants were randomly array into three variable groups, the two groups will be distributed to the experimental group and that will represents the Nintendo Wii and the PREs group. The remaining group will represent the control group which will undergo stretching technique and range of motion exercises (ROM) in the upper extremity. They were subjected into 15 treatment sessions and assessed two times by using the Modified Fugl-Meyer Assessment of Physical Performance for the functional mobility of the affected upper extremity of the post-stroke patients. Assessment was imposed before starting our first the treatment session and after the final session.The Modified Fugl-Meyer Assessment of Physical Performance demonstrates that Virtual Reality has the highest mean scores among all the interventions done with a M=55.80, SD=2.168 followed by the PRE's (M=48.20, SD=6.340), and lastly the control group which is the lowest post-test mean score (M=40, SD=1.581).There is a significant difference on the post-test scores of the PRE's as compared to Virtual Gaming Console. With the computed significant value of p=0.035 suggests to accept the Null hypothesis. This shows evidence that Gaming Console is a far more effective treatment than PREs for post-stroke patients in improving the mobility of the affected upper extremity.

Biography:
Mr. Thimothy lance V. Tuppil, 4th year College Student taking Bachelor of Science in Physical Therapy of St. Dominic College of Asia
Abstract:
Cardio-pulmonary endurance is referred to the ability of the heart, lungs and circulatory system to deliver oxygen to working muscles for sustained periods of time. A cardiorespiratory endurance training program should include activities that elevate the heart rate and involve the body's large muscle groups. Most of the Elderly people in the Philippines are in demand of having Physical Rehabilitation which the researchers gather information's that most of the Elderly populations are having problems such as easily fatigue and acquired diseases. The Portable Virtual Reality Box is an artificial environment that is created with software and presented to the user in such a way that the user suspends belief and accepts it as a real environment. A Portable Virtual Reality comes naturally from the definitions for both virtual and reality. Aerobic Exercises is also known as cardio exercise that requires pumping of oxygenated blood by the heart to deliver oxygen to working muscles. It also stimulates the heart rate and breathing rate to increase in a way that can be sustained for the exercise session.
The Methodology that has been used is Quasi experimental using purposive sampling technique in thirty(30) participants in area Bacoor Cavite. The researcher gather the participants into (2) groups. The first (15) fifteen will be using Portable Virtual Reality Box and the second (15) fifteen will be using aerobic exercises. The study will be having (15) treatment sessions for (30) thirty minutes allotted time in each session in 5 weeks, there will be (1) one day interval per treatment session in every morning. The intervention of the study will be using RPE's Borg's scale and 6-minute walk test for pre and post assessment.
The results using the RPE's Borg's scale on pre-test is and post-test mean score in using Portable Virtual Reality Box and Aerobic Exercises. In the pretest the Virtual reality aerobic exercises , and Zumba aerobic exercises has mean of -.533 has no significant difference .Yet at the post test sig. of 0.004 , with a p-value of 0.05 There is a significant difference between the post test scores of the control group and the experimental group. thus reject the null hypothesis.
The researcher concluded that after 15 treatment session the utilization Portable Virtual Reality Aerobic exercise is more effective than Zumba Aerobic exercises in improving the Cardio-pulmonary endurance in the area of Cavite.
National University Hospital, Singapore

Biography:
Dr Geetha Kayambu is Research Director and Senior critical care research Physiotherapist at the Department of Rehabilitation at the National University Hospital. She obtained her PhD at the School of Medicine, UQ, Australia in 2015. She is accredited Clinical Supervisor by the Allied Health Professional Council and a Member of the Society of Intensive Care Medicine. She has authored peer reviewed publications and an invited speaker at national and international physiotherapy and medical conferences. Geetha has been instrumental in promoting research interests amongst physiotherapists in NUH. Her research interests include novel updates in critical care management. Geetha is site principal investigator for research projects, oversees the direction of potentially high-impact research in physiotherapy and motivates research collaborations both local and overseas in the rehabilitation department in NUH, mentors staff clinically and in research and continues supervision of junior staff in the cardiothoracic intensive care unit for over 10 years.
Abstract:
Critical care management is multi focal which can confound into multiple pathology requiring multiple pathways of recovery. An estimated 2% to 11% of critically ill patients require prolonged stays in the ICU accounting for 25-45% of total ICU days. Acute muscle wasting is directly correlated with systemic inflammation during critical illness and patients with multi-organ failure can suffer muscle loss of more than 15% by the end of the first week of ICU admission. In addition, oxidative stress caused during the disease process is an atrophic stimulus in unloaded muscle that promotes atrophy by modifying redox-sensitive processes in the muscle fibres. Preservation of muscle mass should focus on anabolic restoration through early physical rehabilitation strategies however anabolic and catabolic pathways have not been explored in detail up to date. Through targeted exercise, the prevention of excessive release of pro-inflammatory cytokines, and activation of proteolytic pathways leading to limitation of free-radical generation may inhibit the catabolic skeletal muscle changes in severe critical illness. Progressive physical activity may also reduce resting CRP levels through multiple mechanisms, causing a decrease in cytokine production and possibly impose an antioxidant effect. Different exercise protocols can result in varying levels of ROS production, as oxidative damage can be both intensity and duration dependent. However, the oxidative stress responses of early physical rehabilitation during disease states have yet to be explored. Objective: The overall aim is to evaluate the capacity of early exercise to modulate pathological outcomes during critical illness. Theoretical Orientation: It is hypothesized that early exercise alters underlying pathological mechanisms of critical illness; inflammation, illness severity, microcirculation and oxidative processes affecting muscle architecture. Findings: Preliminary evidence suggests that early exercise can modify fat free muscle mass and inflammatory biomarkers in critically ill patients. Conclusion & Significance: The physiological reasons for improvement or adverse effects on underlying pathology of critical illness with early exercise require further investigations.